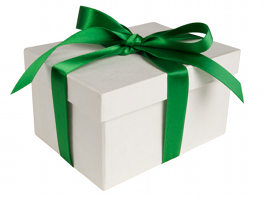 Are you having a hard time looking for the perfect eco-friendly gift for the special environmentalist in your life? Look no further. In this list from www.Ecotourismlougue.com you will find gift ideas that are all eco-friendly.
Everything on the list is either made out of environmentally friendly products or designed to reduce your impact on the environment. There is sure to be something for everyone on this list.
Arbor Day Tree Growing Kits
A little tree growing kit that any eco friendly person is sure to enjoy. This is one of those great gifts for when you don't know what to buy.

Organic Tomato GardenThis is the gift that keeps on going. Give the gift of tomatoes! This is a cool gift idea that lets you grow your own tomatoes. These come in a variety of plants and vegetables.
Eco-Friendly Clothing
Aventura Women's Schaffer Hoodie
A super comfy hoodie that is made of organic cotton. You can't beat a comfy hoodie thats also eco friendly.
Havassy PIPE Eco Friendly Limited Edition Beach Sandals
These are some super cool looking flip flops that are also eco-friendly. These limited edition eco friendly flip flops also come in a variety of other prints.
Reusable Shopping Bags
Chico Bag Reusable Grocery Tote Bags
A set of reusable bags for grocery shopping or anything else that involves a bag! These are great to keep in car or garage for a plethora of unexpected uses.

Green Games & Recreation
New Bicycle Eco Green Deck Playing Cards Recyclable
A deck of Bicycle playing cards made out of recycled paper. Now the world most famous playing cards just got even better by recycling old paper to create a quality product.
Fair Trade Basketball: Eco-friendlyThis is basketball made up recycled rubber. A great gift for any basketball loving child or adult. For the price, this gift idea can't be beat.
Gaiam Eco Yoga MatA cool yoga mat with a peace sign over an image of the planet – what better way to achieve inner peace while doing yoga?
Green Earth Technologies 5 Pack Car Care Kit This kit includes environmentally safe products that you can use to clean your car inside and out. Now you don't have to worry about washing your car outside.
Eco-nique iPod Video CaseThis is a sleek iPod case made with eco-friendly materials. These eco friendly cases come in shapes in sizes to fit all the different versions of iPods and many other MP3 players.
Klean Kanteen Stainless Steel Water BottlesA high quality water bottle that will last you for years to come. These steel water bottles are both tough and eco friendly. They can dramatically reduce your impact on the environment.
Koolkup – Insulated Coffee or Cold Drink Neoprene WrapCarry around your own cozy and stop wasting paper and cardboard ones. These are great for parties or those who just love booze a little too much. They are also cheap enough to buy plenty of extra for events like parties and tailgating.
Green BooksThe Green Book
A great book to teach you all about living green. This book includes tons of great information on how to live a more green life and reduce your impact on the environment.
Natural Alternatives for You and Your Home: 101 Recipes to Make Eco-Friendly Products
A neat little book that includes tons of great recipes for making your own eco friendly stuff. Find out how you can get your family to start living green.
Eco Friendly Recycled Leather Lined Diary / JournalA professional looking journal that is made out of recycled leather. This is a nice practical gift that anyone could enjoy.
Making an Eco-Friendly HomeEco Friendly Polar Fleece Blanket
A nice sized fleece blanket that's super soft and warm. This is anothe rgift that anyone is sure to enjoy. These make for great TV blankets or for those quick mail runs outside in the cold.

Eco Nap Earth Friendly Pet Bed
Now you pet can go green too with this eco-friendly pet bed. This pet bed is made up almost entirely of eco friendly products.
Eco-Friendly Bamboo Picture Frame
A small eco-friendly bamboo picture frame for your desk or nightstand.
Excerpts from this blog are taken from online article "25 Green Gift Ideas: Not just for Christmas"
For more information on living Green or Green Real Estate contact Maui EcoBroker, Realtor (S) Meghan Clair

Meghan Clair
Realtor (S), EcoBroker
MauiGreenRealtor@Gmail.com
Coldwell Banker Island Properties-Shops at Wailea
(808) 463-8485 Direct Phone
(808) 874-8668 Office Phone